As the nation's capital, Berlin has often been leading the way when it comes to certain trends and developments. Bowie and U2 recorded albums here when it was still partitioned, then came the techno clubs that set globals standards and they in turn were followed by creative food and drink entrepreneurs who took advantage of cheap rents, abundant spaces and a population that was hungry for the unknown.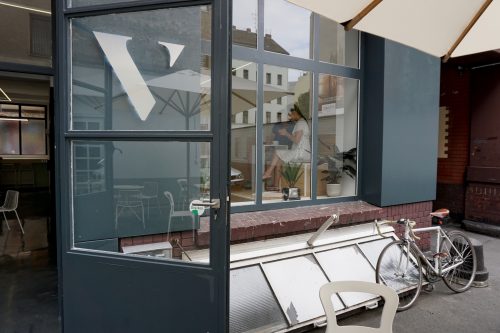 Throughout the last few years, Berlin's specialty coffee scene developed at a much faster speed than anywhere else in Germany, not unlike London or Paris. Almost every few weeks a new café or roastery pops up but many of the latter are rather small-scale affairs that often just cater to their own outlet(s). But The Visit, Berlin's latest arrival, is anything but small-scale.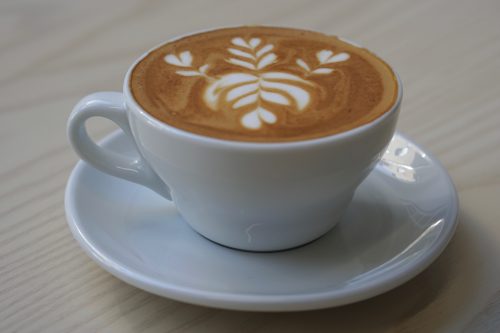 There has been quite a buzz in the coffee scene already even before they opened last week. During my most recent visit to Berlin, I used a few spare hours on a balmy Monday morning to venture over to Kottbusser Tor and find out if this new coffee roastery really lived up to the reputation that was preceeding it.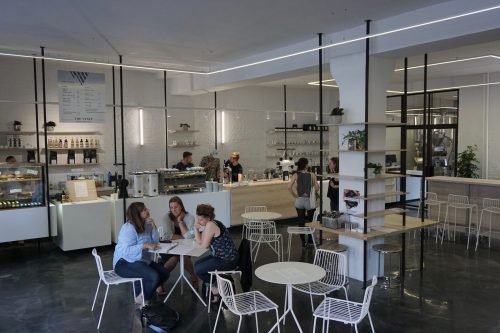 The exact location may come as a surprise, because the street itself is a bit grimy, but The Visit is located in a backyard, slightly set back from the main street, and is as a result a small oasis of calm in an otherwise hectic part of town.
As you enter, you cannot help but gasp at the stunning interior and large open space. Even without knowing how much the world class equipment on display actually cost, you can safely conclude that no costs were spared while making this place a reality.
Run by coffee veterans Cihan Kodak and Damian Durda, The Visit showcases all forms of specialty coffee in its most high-tech versions. From the top of the range espresso set up to its mind blowing brew bar and exquisite coffee roasting space at the back. It's also the first coffee bar I've seen with four Alphadominche brewers as part of the set up, two of which are dedicated to tea while the other two are dedicated to coffee. All with preset profiles of course.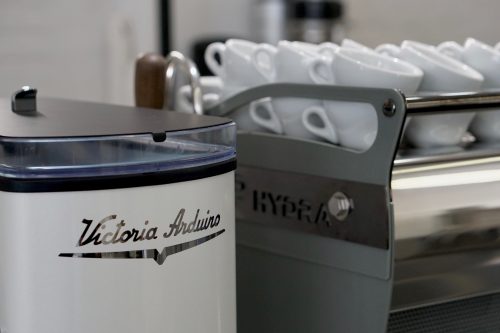 "We spent a year developing the concept and really made sure we got everything right to produce really amazing coffees. Nothing was left to chance," Damian explained to me over a glass of their white nitro from the tap.
While the coffee roasting itself is not yet fully functional, The Visit is serving various coffee from Swedish roaster Per Nordby but as Damian assured me, by the time of the Berlin Coffee Festival this weekend, things will have started up properly.
---
THE BEST COFFEE STARTS WITH THE BEST BEANS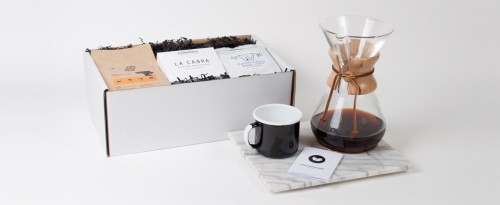 Discover the most delicious coffees from the world's most exciting roasters from a box at your door.
Join our critically acclaimed coffee subscription today and start making the best coffee you've ever had, every day.
ORDER NOW

---
Damian himself will be doing the roasting on a brand new Loring 15kg coffee roaster, focusing on direct trade coffees from Nicaragua and Honduras. Two more shops are already under construction and will soon open in other parts of the city too. Clearly, time to rest was not included in The Visit's business plan.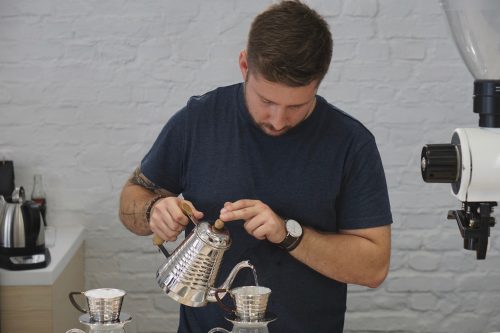 Simple and delicious dishes are also being prepared on site and there is no restriction on people bringing their laptops to work here. Indeed, there are USB ports integrated in the bars and the back part of the space will soon also be offered as a co-working space.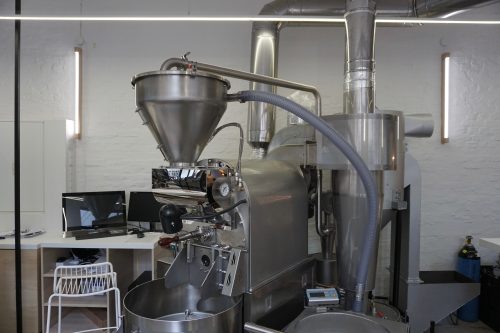 Having visited many new coffee bars and roasteries over the past few months, I have to conclude that The Visit is without a doubt one of the most impressive. A mix of Copenhagen, London and San Fransisco that comes together in a friendly and relaxed space where pretentiousness is left outside. Certainly an exciting new addition to the city's roasting scene!