I recently had the pleasure to spend a bit of time in the city where I spent my childhood years and where I still have quite a bit of family. Cologne, Germany's 4th largest city, is a very vibrant place full of history, culture and sadly, very very ugly buildings. But if you look past the hideous post-war monstrosities you'll find a city that is brimming with character.
For me, visits to Cologne are always a matter of getting off the train, heading out to the "Bergisches Land" to see my granny and then spending a night with my dad and his wife, so I never actually have much time to discover the city's coffee scene and to tell you the truth, until recently there was really nothing to write home about. But luckily, that has started to change and during my last visit I decided to take some time to see it for myself.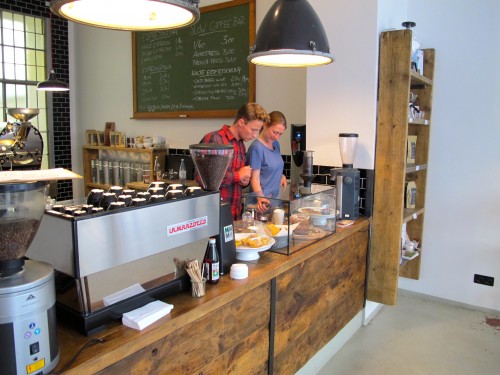 The best tip came from a local friend of mine who, over a glass of Fanta, told me that a new coffee roaster had opened up not far from his house but as a novice to the world of specialty coffee he was a bit scared to go inside and buy some coffee. "Ah, don't be silly. I am sure they're super nice," I reassured him. The next morning I set out to visit said roaster and embark on a discovery journey of Cologne's tiny but happening specialty coffee scene.
Ernst Kaffeeröster is a small café and roastery located on the up and coming Bonnerstrasse, which until not too long ago was a rather run down part of the Neustadt Süd. However, since "Die Fette Kuh" opened there a few years ago, where they also serve one of Germany's very best burgers, things started to improve. Maren Ernst, owner and head roaster at Ernst Kaffeeröster, who comes from the more corporate side of coffee, saw an opportunity to turn her dream of owning and running a small batch coffee roastery here into reality and didn't have to think twice when she found the ideal space to open Ernst Kaffeeröster.
The place itself is bright, friendly and welcoming and it won't take you long to notice that everything here revolves around really good coffee. From the extensive menu that comprises all of your favourite espress0-based drinks to the wide range of filter coffee options and high quality beans to take home, it's all there.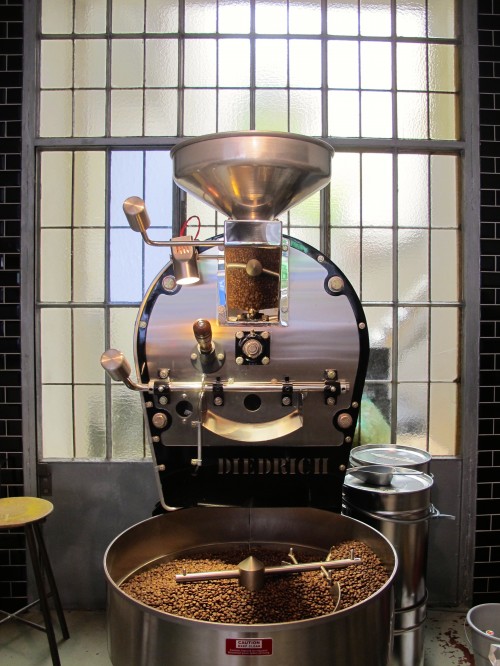 After introducing myself to Niels and Maren, I took a seat and sipped on a large glass of their Kochere, Ethiopia cold brew and waited for Maren to finish roasting a batch of coffee. When she joined me I was curious to find out what drove her to open a coffee roasting business in Cologne. "I actually spent many years working in the marketing and product development departments of a large coffee machine maker and often got frustrated when my suggestions were reduced down to the bare minimum or completely discarted. Coffee is something I have always felt passionate about but when you're in a big corporation, it's very hard to make an impact. So after I discovered specialty coffee I kind of saw my future written in the stars."
At Ernst Kaffeeröster, Maren and her small team take the greatest care to select only the best coffees they can get their hands on and make sure they get the most out of every bean. "It's a constant learning process and super important that you always challenge the status quo. Every coffee is different and requires attention to detail. I love experimenting with the roast profiles and developing different aspects of each coffee. I actually also try to find a middle ground between the Scandinavian roasts and the slightly darker roast profiles that people here are more familiar with," she said.
I think one of the most touching stories I have ever heard from anyone is what Maren said about the moment when her husband's grandmother tried one of her filter coffees one day. With tears in her eyes she told Maren: "Oh dear child, this is exactly what it tasted like 70 years ago when I got my freshly roasted beans and hand ground them before making a pot of coffee. It's wonderful!"
For me it was also a great experience to rediscover the city that I spent so many years of my childhood in. Cologne, with its iconic cathedral and bridges, is a wonderfully vibrant city that has always been known for the friendliness of its locals. So why not start your visit with a cup excellent coffee at Ernst Kaffeeröster? Exactly.