Stockholm Espresso Club – Hamburg (DE)
An unlikely friend is helping Hamburgers to discover Swedish specialty coffee
opening times:
Mo - Fr: 8 - 19, Sa - Su: 10 - 18
wifi:
No
urls:
Facebook
price check:
Espresso: €1,70 / Flat White: €2,50
machine:
Bosco Napoli
coffees on offer:
various Espresso and filter roasts by Koppi
milk:
Reitbrook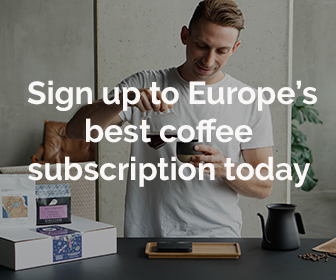 Stockholm Espresso Club – Hamburg (DE)
An unlikely friend is helping Hamburgers to discover Swedish specialty coffee
In the digital age that we live in today it shouldn't really come as a surprise when someone adds you on Facebook and you wonder: "Who the hell is that?" and then you see that you and the person in question have 23 common friends and you're still like: "I really don't think I know this person but (s)he knows so many of my friends so we must have crossed paths?"
When this happens in the real world, no Facebook involved, it still seems like a bit of a sensation, especially when the person in question and you have the most unlikely of connections. While I was recently stalking Facebook (some call it: doing research) to find new coffee places to review for my blog I stumbled upon this place that some of my friends from Hamburg had been checking in at and which immediately grabbed my attention. It was called: "Stockholm Espresso Club". I thought to myself: "Wow, those Scandinavians are really trying to take over the world. I flipping love it!"
Then one day I got a message from my step sister, who also lives in Hamburg and who – sort of by the way – mentioned that the cousin of a very good friend of hers – who is half German and half Liechtenstein and who grew up in Bangkok and who I incidentally met many years ago when visiting the Thai capital with my family – had recently opened a new coffee place in Hamburg and that I just had to check it out. I asked her: "What's this place called?" She said: "Stockholm Espresso Club. It's right near your mother's house!" There. Didn't I tell you? This world is so small that sometimes it's actually a bit frightening.
Obviously, the last time I went to my hometown in early December I made it my mission to politely refuse my mother's offer of a Nespresso Cappuccino for breakfast, instead informing her: "Mother, I have The Coffeevine business to attend to. If you'll excuse me please." Smilingly, she waved me off.
Stockholm Espresso Club is neatly tucked into a quiet residential street in affluent Winterhude, which also happened to be the initial birthplace of highly rated local outfit Elbgold. Since I had turned off my roaming and was not using Google Maps to navigate the streets, I obviously walked past my destination at least 3 times before finally choosing to ask a local shop keeper for directions. Gosh, it's only been like 11 years since I left Hamburg, I SHOULD know my hood. But no matter.
Once I had popped inside the café I felt a strange sensation. All white from floor to ceiling, Stockholm Espresso Club might seem a bit cold at first but once you've taking a seat and reviewed your surroudings, you actually feel like you're in a typical Hamburg living room. Being true to its name, Stockholm Espresso Club serves almost exclusively coffees roasted in Sweden, to be more precise, Koppi, although Quijote Coffee from Hamburg was also being served at that time. Through the tiny connecting window between the coffee bar and the kitchen I spotted a burly man peeping into the room every now and again and I don't know what it was but I immediately thought: "That must be Ben." I navigated around the corner and extended my hand to said man while trying to formulate how I knew his cousin. He stopped mid-smearing a sandwich, stared at me incredulously for a moment and then burst out laughing. "You're fucking kidding me right? That's a bizarre connection man!" he said while whiping his hands on his apron. He passed the sandwich through to Anja who was on the other side of the window making coffees and took a break to show me around the place.
I think the most hilarious aspect of the place is that, as I mentioned earlier, it is actually a flat, or a former flat I should say. "So what happened basically was my partner David had been planning to open a coffee place for ages and when he heard that the tenant of this place passed away he did all he could to get the licence to open a business here. We did all the rennovating outselves and we purposefully kept a slightly sober Hamburg style. We didn't want to resemble a coffee bar like the ones you find in Berlin. You know we're not all that crazy in Hamburg, haha." It's not 100% kosher though as I discovered while randomly looking at the doorframe of the second sitting area. There hung a little sign that said "Privat". "What's that about?" I asked Ben slightly confused. "Oh haha. Well, ehm, since this is a person's former appartment we have some restrictions. Officially this second room is only for private guests but we know how to handle the authorities, should they come." Ben gave me this conspirative look that I decided not to press the matter further.
When Ben went back into his lair, I asked Anja to make me a little aeropress coffee using Koppi's Costa Rican beans. I took a seat as two men walked in with a small kid and disappeared into the private room next door. Soon after the kid started screaming like it was being murdered. I have honestly rarely heard something like that before. (It was not being murdered btw, the kid was just really badly behaved). Then a big lady walked in, greeted me with a nod, and also went into the room next door. 2 seconds later she came out again and announced to all other guests in my part of the café: "OH MY GOD. What the fuck is going on in there? Why do parents feel the need to torture their kids into sitting in a café with them. Like, really?" Needless to say, when the dad came in to place his order, everyone turned and stared at him. He went bright red. Poor man.
Anyway, enough of that. Back to the coffee. One of the things that Ben had pointed out to me earlier was that for him and his partner it was really important to focus one Swedish supplier (David has some links to Sweden) and develop an outstanding relationship with them. Koppi was quite happy to have these guys as their exclusive customer in Germany, although my gut feel tells me we might see more of them in the coming months. There is something about the Swedish way of doing things that fascinated these guys and to some degree, Hamburg and Scandinavia share a lot of similar cultural values, which is why Ben and David probably thought: Bingo! I mean we all know IKEA, Volvo, Fjallraven and Smorgasbord. Now it's time to discover the delights of Swedish coffees.
As I sipped on my beautiful cup of coffee, I observed some new guests who had come in during the last few minutes and I was incredibly pleased to hear that they didn't just ask for a Latte Macchiato (Hamburg's favourite drink) but actually asked for coffee recommendations and other brew methods. Hamburg might be a superlative in many ways but when it comes to coffee it still has quite a way to go. Ben and his team will be nudging it along its way, there is no doubt about that.
More Reviews from Hamburg & Germany