After leaving the wonderful world of Relaks in the South of Warsaw, I jumped back on one of the city's rust(y)c trams to head back North. The next place I was about to visit would sadly also be the last one on my specialty coffee adventure in the Polish capital. I was really excited about this particular caffe since my virtual coffee guide Lukasz Jura had promised me that he would contact his friends at Ministerstwo Kawy to announce my arrival and make sure I'd get to taste the best coffee in the house.
At first, after getting of the tram at Pl.Zbawiciela I was a wee bit lost. I saw plenty of caffe's around but none fit the kind of image that I had in mind of the "Ministry of coffee". It was only when I spotted an inconspicuous sign for "Cafe" on the the outside of a building that my eyes were drawn to the large windows and when I saw the interior I knew right away that I had arrived at the right place.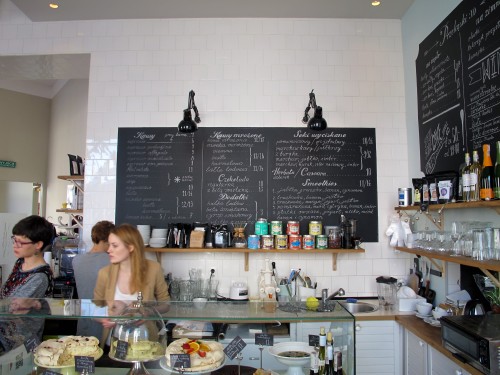 Ministerstwo Kawy occupies the ground floor of a large apartment block and shares an entrance with an upmarket shoe store. As I ventured inside the first thing I saw were the colourful coffee bean bags that were adorning the grinders. Ministerstwo Kawy uses exclusive Espresso roasts by Koppi Coffee from Stockholm but they also have changing filter roasts by different international roasters. Magdalena, who was keeping a watchful eye over the bar that morning, was pleased to meet me and warmly suggested I should try a special Honduran Los Pinos drip coffee by guest roasters Work Shop from London.
The cakes they had on offer looked ridiculously appetizing and despite just having had a rather rich almond croissant at Relaks half an hour earlier, I got coaxed into ordering a slice of a delicious looking white chocolate mousse cake with pomegranate seeds on it. I took a seat in the middle of the buzzing caffe and took in the happening atmosphere while I waited for my drip coffee to be made.
I loved how the sunshine flooded the place with light and everyone seemed to be chatting away over great coffee, bubbles and vegetarian quiche rather than sitting glued to their laptops or phones. My coffee was really tasty with a slight chocolatey aftertaste to it. When I got a moment, I asked Magdalena to tell me what the locals thought of their specialty coffee. "It's funny. We got a lot of complaints in the beginning. People often told us the coffee was too fruity. I think Polish people don't really like fruity coffee but at least they're willing to try it, ha ha."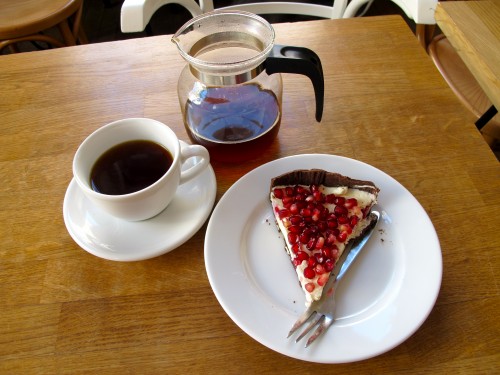 Like the other places that I had visited, Ministerstwo Kawy set itself the goal to make the best coffee in Warsaw because the city is awash with terrible chains that serve very very bad coffee. It's not really a surprise then that new customers are initially a bit reluctant to adopt specialty coffee but as Magdalena told me, "You have to develop a taste for it but once you're hooked you will never go back to that other stuff."
As my visit to Warsaw was coming to an end, I could look back on 3 really great days in the Polish capital, which have allowed me to meet some truly wonderful people with whom I share a passion for really great coffee. Unexpected as it was, the happier I am for finding the 4 places that I have reviewed for The Coffeevine and I hope anyone who visits Warsaw will be able to check them out.
Dziękuję za wspaniałe doświadczenie!