The Hall – Lancaster (UK)
The city of the red rose plays home to one of northwest England's finest specialty coffee brands that is putting Lancaster on the global coffee map

The Hall – Lancaster (UK)
The city of the red rose plays home to one of northwest England's finest specialty coffee brands that is putting Lancaster on the global coffee map
I recently returned to the city northern English city of Lancaster that I called my home between 2003 and 2006. When I first arrived to start my undergraduate degree, Lancaster was a pretty shabby town with many trashy shops, grimy bars and often unpleasant locals but already during my three years there the city was experiencing small but significant changes.
By the time I left in the summer of 2006, Lancaster had become a bit posher and prettier, and it finally felt like the city was really trying to return to its former glory as the birthplace of kings and the cross roads of trade, albeit in a contemporary fashion.
At the time, there was no specialty coffee to be found anywhere within at least 200 miles, but during my recent visit, 10 years after my graduation, I found that Lancaster had really changed a lot, and finally, there was a spectacular place where specialty coffee was roasted, sold and served in all its glory.
What used to be a rehabilitation centre, operated by the NHS, is now the most spectacular coffee bar in the Northwest of England. Not only does it feel like it has always belonged there, it also seems to attract a particular crowd of people. During two consecutive visits, I witnessed an eclectic mix of academics, students, locals and the occasional tourist, and each time I spotted a handful of syphons on a number of tables.
Daniel Atkin, Head Barista at The hall, explained to me, 'We're still quite a novelty in town, and in particular the way we serve coffee. Most people are familiar with espresso-based drinks and filter coffees but the syphon somehow gets people really excited.'
All coffees are prepared at the long bar, while at the front, there's a small space occupied by a local bakery and in the weekends live music is accompanied by wood-fired pizza baked in the back. Moreover, The Hall is fully licensed, meaning you can enjoy a cold beer or glass of wine on weekends too.
Next door, there is a small shop where Atkinsons owner and head-roaster Ian Steel roasts his coffees on a myriad of antique coffee roasters that include, two Whitmee roasters and a small 1945 Uno flame-roaster, as well as a brand new Loring that recently arrived at the roastery. Ian kept a lot of the gorgeous elements that lend the century-and-half old tea merchant's store an air of past-grandeur in a modern age.
Apart from his own roasted coffees, Ian also offers a fine selection of teas, chocolates, craft beers and other products that perfectly complement his own specialty. Indeed, the wind of change can nowadays be felt all the way to the university campus because Atkinsons is one of the key suppliers to some campus cafés (thank god, because Starbucks and Costa also operate outlets on campus these days).
If The Hall is too busy, you can also visit Ian's other outlet The Music Room, which him and his wife opened around 8 years ago, and that was Lancaster's very first third wave specialty coffee outlet. With a fast-growing and affluent student population, there's no reason why this small English city can't have a more lovely outlets like these two. Students are certainly the perfect customer group, right?
---
Looking for freshly roasted coffees from some of our most favourite roasters? Buy them now in our brand new online shop.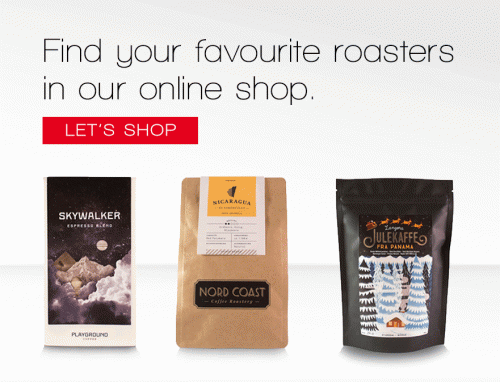 More Reviews from Lancaster & United Kingdom