I don't know a lot of people who don't like Berlin but most of the ones that I do know are from Hamburg. My home city and the German capital have always had a bit of a rivalry going on, which I find rather amusing because the two largest cities in Germany couldn't be more different. While Hamburg became one of the richest cities in Europe due to its massive harbour and sober attitude to doing business, Berlin became one of the poorest. Defeated, divided and finally reunited Berlin is still unrivalled when it comes to being Europe's if not the world's coolest capital. I love Hamburg, don't get me wrong. It's gorgeous mansions, the canals, the harbour, the sleaziness of St. Pauli with its dingy bars where you can drink €0,50 shots until you drop are all masterfully united under the banner of a city that is fast becoming Germany's biggest tourist magnet. But, Berlin is Berlin and Berlin is simply on a different level.
When I went home to Hamburg last week I decided to visit Berlin for a day to do a little tour of some of the city's best coffee places, which had been on my to do list for a long time. I tried to focus mostly on the ones that also roast as I was curious to explore the level of quality there. Of course I had been doing some snooping around to find out which places were hotly tipped by my fellow coffee friends in Germany and the final top 3 list consisted of places, which you will all find on this blog shortly.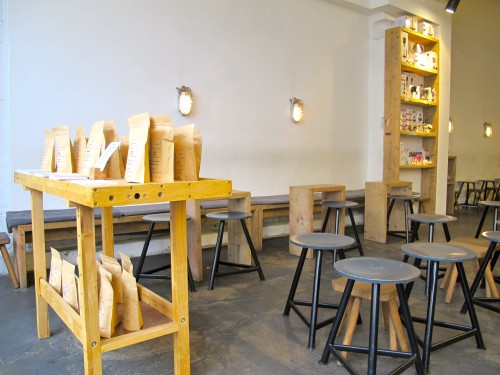 Prior to my arrival in Berlin I had messaged place number 1, The Barn to see if there was room for an interview. The answer was courteous but slightly disappointing. "Hi Alex, great to hear you're coming but on Fridays we roast all day and I really cannot spare any time. But feel free to pop in and have a coffee. Janne will look after you," Ralf, the owner, mailed back. Ah well. For what it's worth, I didn't have the slightest clue what the place looked like anyway. Often the roasteries are hidden from sight so that you cannot even see the roaster in action. Only one way to find out.
As I approached The Barn I passed an interesting container building that housed a "Kunsthalle" and occupied one of those typical and plentiful empty spaces that are either relics of the second world war or the cold war. While people in Amsterdam or London don't leave any property undeveloped, Berlin is full of random spots with nothing on them. I guess this is another element that makes this city so vibrant. Find a spot, set up shop and get involved. It's as easy as that.
The Barn is located in a large grey building that is pretty nondescript from the outside but after peering through the massive street level windows, I knew this place was pretty special. Housed in a former pharmacy, The Barn's roastery is the company's second location and by far the largest. A massive L-shaped bar to the right provides enough space for a comfortable display of all possible brewing methods as well as a lovely selection of home-baked cakes and sandwiches. The entire decor is totally minimalistic. A few stools, a couple of benches, one or two tables and some lovely window seating provide cozy spaces for people to converse and sip on expertly brewed cups of coffee. The back however, is where all the real action is.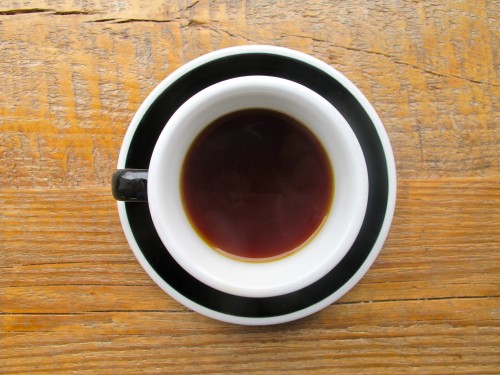 I approached the bar and inquired who Janne was. "I am Janne," a blonde girl with a bob hair cut replied. "Ah awesome, I am Alex. We had emailed?" "Yes, yes! Hi! So nice to meet you! Welcome to The Barn. What can I get you?" "Hm well, wow. So much to choose from! What do you recommend?" "Let's see. We have this lovely Mesele Haille that works really well with the Kalita. Shall I make you one?" "You got it! Oh and give me a slice of that dangerous looking chocolate and almond cake too while you're at it." It was impossible to resist, despite my no bread, no beer diet.
I claimed a nice spot by the window and took a moment to savour the view. The Barn is the kind of place that I really miss in Amsterdam. Spacious, flooded with light, warm and on this particular day filled with the beautiful scent of freshly roasted coffee. I registered the activity that was going on at the back and spotted a man with a beanie on his head who was frantically taking notes, looking at his laptop and every now and again abruptly pirouetting around to adjust something on the roaster. I assumed this man to be Ralf.
It was a surprisingly quiet day and only a few people came and went while I was there, which gave me plenty of time to glue myself to the bar and chat to Janne about The Barn. What started as a tiny shop on Auguststrasse a few years back, quickly grew to become one of Berlin's most prolific coffee roasters. As Janne explained while brewing my coffee: "When we opened this space here we wanted to make sure we created a place where people could come to relax, chat and enjoy great coffee. That's why we don't allow prams or laptops (at the windows). Some people consider that to be unwelcoming but that's how we like it. We're normally also never open on days when Ralf is roasting but we decided to experiment a bit with that too because it's really fascinating to see the process in action."
At first I was a bit apprehensive about going over to disturb Ralf but despite his sternly concentrated look, he did find some time to chat to me after roasting the last batch of the day. We sat down in the "media corner" as he called it, because this area is where you are allowed to type away on your laptop or iPad. "Initially I was just baking cakes and serving coffee but when you start working with the product like we do here you just get this hunger you know?" Ralf explained. "I wanted to start roasting and working with the farmers and understanding the supply chain and production process better so I could ultimately also offer better coffee. I was in Ethiopia recently where I visited a coop and it was such a great experience. On Saturday I head off to Kenya. It's important to visit these countries to guarantee a consistent level of quality and to ultimately help the farmers to produce top-notch coffee."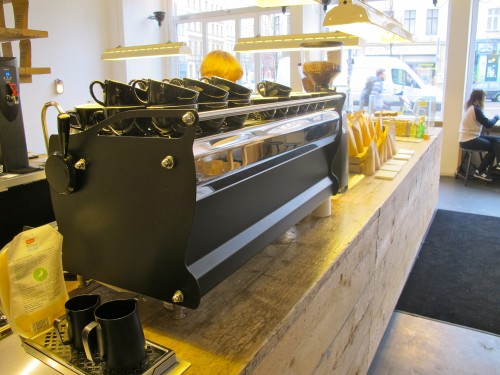 What I found particularly interesting is that Ralf gets coaching from Square Mile and Tim Wendelboe as well as working closely with other Scandinavian roasters on things such as imports. A few days earlier he was in Hamburg, serving up his coffee at local delicatessen store Mutterland. It's quite clear that Ralf and his team are extremely driven and making sure that everything always looks immaculate and tastes amazing is the result of their hard work. Just to highlight this, Ralf even moved the cake trays around a bit to make them look more symmetrical. If that's not perfectionism?
Ralf also gave me a bit more insight into the local coffee scene in Berlin. "The coffee scene here is still in its infancy really. Despite the fact that we're in Berlin, there is only a handful of high quality coffee roasters. West Berlin for instance is still no-man's-land. I wish people here would stop being so sheepish about coffee and be a bit more daring. I guess you have the same problem in Hamburg right?" Indeed, even Hamburg with its population of 1.8 million people can not even boast a quarter of specialty coffee shops that you can find in Amsterdam these days.
A large focus of The Barn's business is B2B as well as selling coffee via their webshop to other coffee lovers from Europe and the world. While Ralf and I were chatting, some of his employees were busy packing up the coffee ready for shipping. I asked Janne to make me a Flat White so I could also get a taste of their milk-foaming skills. This one was made using their Nicaragua La Amistad roast and despite the fact that milk always clouds the coffees flavours I could still taste a lovely hint of dark chocolate and blueberries.
When I got ready to leave, Ralf rushed to the back to give me a bunch of samples to take home. "I really like what you're doing," Ralf said as we shook hands. Likewise. Highly recommended!